Hi,
Looks like a lot of tsumeshogi that appeared in the Shogi-L mailing list were collected here:
http://www.shogi.net/arc/shogi-l/tsume_faq.txt
They aren't displayed as diagrams, unfortunately. I'm kind of between projects at work, so I wrote a hacky little script that automatically creates some nice (if I may say so) diagram images from the original file. Here they are (I only uploaded the 35 3-move problems, for now):
http://www.fzort.org/mpr/stuff/tsumeshogi.html
Have fun!
Here's the biggest error to the fzort.org page:
All of Gote's pieces are backwards.
I'm not talk about upside down, which is the way they're supposed to be, but as in flipped backwards. Such as the Dragon's tail is on the wrong side. The dot on the King is on the wrong side, and it's basically mirrored over. It looks really weird; I think you should fix that.
Apart of that, I appreciate those Tsumes. They should be really fun to do


_________________
PlayOK Username: Regicide
YouTube Account: xDAZZE
こんにちは!
Administrator





Posts

: 151


Join date

: 2009-09-11


Age

: 27


Location

: United States



1059860 wrote:All of Gote's pieces are backwards.
Ouch, that was embarrassing. Thanks for pointing that out!
Fixed the problem and uploaded again, please reload the images...
Ok, I'm (slowly) trying to solve all these problems. I only did the 3-movers so far, but I'm already noticing some positive effects in my playing against some AIs (I could plan a mate against Booze 3 moves ahead - lame, yes, but to me at least that was a major breakthrough :-) ).
However, I think there are some mistakes in the provided answers. Can anyone else confirm these?


Problem 27: seems to have two answers, the one provided and also this one: L2c+, Sx2c; G4d.

Problem 31: after R*2c, it looks like gote can avert mate with K3a.

Some other minor annoyances: problem 22 has no solution in the file (the solution for 22 in the file is actually the solution for 23). Also, from problem 20 onwards, the file doesn't show all the variations in the solutions (IMHO it's important to work out all the possible variations to make sure the solution is correct).
1) G-4d isn't mate. The king can simply flee with K-2d.

2) Good eye. Gote can can delay mate by K-3a; however, tsumeshogi rules state that the king can't resort to futile interposition to delay checkmate - this means that the king can't increase the number of moves by simply dropping pieces in front of the attacking piece. Therefore, it's still a 3-move to mate problem, just not a very good one. R*2c K-3a Rx3c+ mate, since the only way to delay mate would be to drop a piece in front of the dragon - which can then be immediately taken by the dragon OR knight to deliver mate.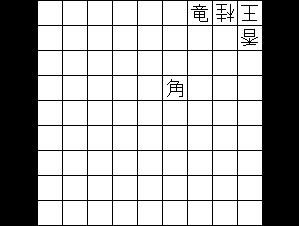 Take this diagram, for example. (Gote has all pieces in hand, like ordinary tsume.) In a real game, checkmate wouldn't be declared until something like 1. G*3c 2. Bx3c+ 3. G*2b 4. +Bx2b. (Note: Gote can't play 3. Nx3c because it's pinned by the dragon.) However, in tsumeshogi, this counts as a solved mate.
Administrator





Posts

: 178


Join date

: 2009-09-11


Age

: 28


Location

: Jennings, LA



Thank you!



Similar topics
---
Permissions in this forum:
You
cannot
reply to topics in this forum